INTRODUCING CANBERRA
The city of Canberra started as a European settlement in the 1830s. The Indigenous people of the region were the Ngunnawal, today they are more dispersed into regional areas. In 1908, Canberra was chosen by ballot to be the federal capital and the city scape was designed a few years later. After an international design competition, the winner - American architect Walter Burley Griffin – began to sketch out what is today considered to be one of Canberra's greatest highlights - its urban design plan.
Today Canberra is a political city with much of its activity and population centered around its largest employer – the Australian Federal Government. It's a small city, dropped right in the middle of NSW, but bordered by its own Territory the ACT (Australian Capital Territory). Canberra has less than 500,000 residents and the ACT has the youngest population in Australia with an average age of 34 years old. Canberrans are highly educated and known to be some of the fastest adopters of new technology in Australia.
Canberra is one of those idyllic Australian cities that is free of the usual chaos and towering skyscrapers and distinguished by fragrant native vegetation throughout the city. It has a special quality throughout the seasons as native wattle, wildflowers, flowering gums and deciduous European trees help locals to mark the passage of time with stunning displays of natural beauty and colour. Canberra has hot balmy summers and crisp sunny winters with glorious golden light through autumn and a sea of blossoms through spring. It's renowned of course for its urban design and the Parliament House precinct but also as being the home to many of the nation's most breathtaking and fascinating architecture, galleries, museums and memorials including the National Gallery of Australia and the striking Australian War Memorial. Canberra is often dismissed nationally as being a little dull, however it has a spirit all its own and its world class facilities and attractions should not be underestimated.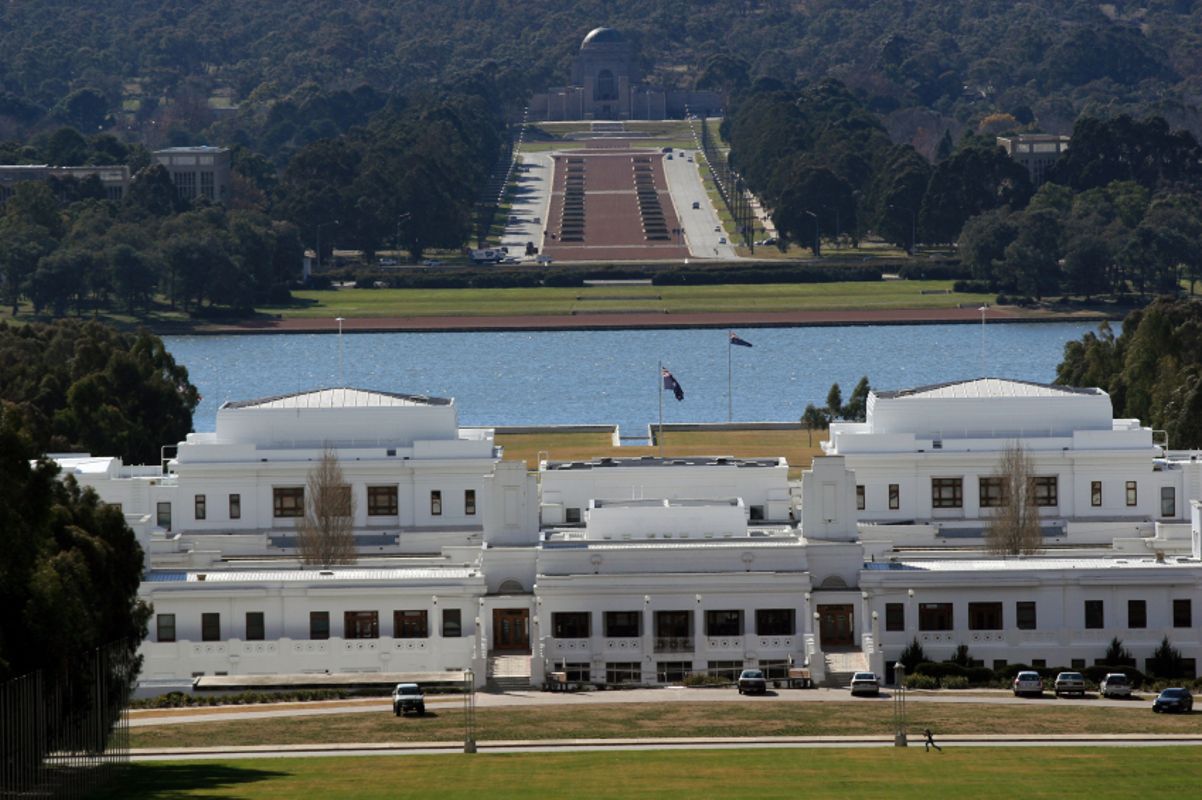 SUBURBAN LIFE
Canberra has a very young population with the average age falling somewhere between 20 and 39. A large proportion of the population are single and the number of families is less than in other states. This makes for an interesting community but given the nature of most people's employment, is hardly surprising. Almost half the population work for the government so life for many inevitably revolves around the political precinct.
Singles, Young People and Students
Canberra is home to the Australian National University – widely considered to be Australia's finest university, along with half a dozen other educational institutions. Canberra is an appealing destination for study and about 25% of the population are students. It offers an inexpensive, distraction free environment for studying and students can access world class facilities and opportunities. Because the city is so small, it makes sense to live close to Uni and in fact Canberra has the highest proportion of on campus accommodation in Australia. Those not living on campus can live quite close by in O'Connor or Braddon, with access to the best of student life and city culture. Those attending the University of Canberra are a little further out in Bruce and Belconnen but conveniences and nightlife are in decent supply, plus the bliss of village life and your very own local lake. Statistics vary but consensus seems to be that almost 75% of Canberra city's residents are unmarried.
It's a highly educated city, with impressive earning potential for those pursuing a career there. Choice of where to live is dictated by where work is and there is some distinction between those who live north of the lake and those who choose to live south. Civic and Braddon are the hottest tickets for those on the north side with cool cafes, bars and restaurants for brunch, beers, burgers and beyond. Dickson is a little further north but popular with young people and students for the great food in particular – it's home to Chinatown and loads of the city's best noodles, soups and Asian cheap eats. Those looking for a waterside lifestyle are also enjoying the fruits of progress in Acton and New Acton on the north side of the lake and Kingston on the south side. The Kingston foreshore is a bustling hub with some of the city's best dining and water views.
Family Life
There are far fewer families in Canberra than young single professionals so suburban family life can be lonely if you don't choose well. Finding areas with quiet streets, decent schools and easy access to work can be a challenge and your budget may be stretched as you get closer into the centre of town. The houses around Belconnen and Aranda have great natural surroundings, being close to Black Mountain and are spacious, though not necessarily affordable. Inner north such as Acton and Ainslie are also quite good with nice communities, good local facilities and easy access to the city centre. South side of the lake is ideal for those working in the parliamentary & embassy precincts but can be a little more expensive. Griffith is wonderful, being central to both Capitol Hill and the Kingston foreshore with nice streets and a good community vibe. Kingston is also great especially for great local wining and dining and plenty of open space and parklands along the foreshore to take the kids and the dog for a run. Yarralumla is beautiful if budget is not an issue.
Retirees
Canberra may not be everyone's first choice for retirement and for locals who have been there most of their lives, there is a tendency to move to the NSW coast to enjoy the retirement years, while still being just a couple of hours drive away from family and friends in Canberra. For the younger retirees, new developments such on Kingston Island are an appealing lifestyle choice, as are modern apartment complexes taking shape in New Acton. Yarralumla is possibly the best suburb in Canberra to retire to, with a larger proportion of the local population over 55 and some nice houses for those not interested in downsizing. Retirement villages and aged care facilities are popular on the west side of Canberra, particularly around Weston creek, Lyons and Woden Valley which are all close to hospitals, medical centres and specialist facilities, While Farrer has some elegant village options for the retiree. For those needing residential care there are decent options on north and south sides of the lake, however they are a little further out so sticking to more populated residential zones such as Bruce and Lyneham reduces the risk of being isolated.
First Time Buyers
Shopping for a house in Canberra can leave the first home buyer frustrated, with the median house price hovering close to $600,000. The closer to the centre of town you look, the smaller the properties get so if you are a young single professional or double income couple with no kids you can probably find yourself a nice unit or apartment for a reasonable price, as long as space is not a priority. Belconnnen for example has modern contemporary apartment projects with special deals for first home buyers. Families needing more space and less expense will be forced to look further out and the collection of suburbs in Gungahlin are worth exploring, especially newer suburbs such as Crace and nearby Giralang. This area is one to watch with vacant land to the north, close to the NSW border, currently under review for new suburbs with up to 1000 homes and associated necessary community facilities. South of the lake will require a large investment or a long commute. The latter for those cautious first time buyers will mean Waramanga or Farrer. There are also contemporary resort style apartment complexes in the area with excellent facilities and stunning views of the surrounding landscape.
Best Investment Areas
As is the case in most cities, location is everything and in Canberra it's either in the centre of the action or down by the water that everyone jostles for the best property. Inner city suburbs like Braddon and Acton are always a decent bet and centrally located suburban life offers some secure long term investment possibilities, particularly around Lyneham and Dickson. New foreshore developments at Kingston are getting a lot of interest and local confidence in the area is strong so long term prosperity and support is expected. Stability of growth is important and Canberra's western suburbs such as Weston and Chapman are expected to do well in coming years for those with the longer term in mind. Aranda has decent projects and the ongoing projects and developments in the north part of Gungahlin mean reasonable investment to get in and decent returns in the future.
SPECTACULAR FACTS
Canberra's population is much younger than that of the rest of the country with 34 years old as the average age of its residents
As a group, Canberrans are the most highly educated and most literate professionals in Australia.
Canberra has an excellent network of bicycle paths and beautiful nature in and around the city. As a result, it has more bike riders than anywhere else in Australia.
Canberran households are committed to the environment with the highest percentage of waste recyclers in the country.
The city has a diverse multicultural population with almost a quarter of its residents born overseas.
It's thought that name of the city comes from the Ngunnawal Aboriginal word 'Kamberra', meaning 'meeting place'.
Parliament house cost $1.1 billion to build, has 4,500 rooms and was designed to last 200 years.
Parliament House's Australian Flag towers above the building at 81 metres and the flag and pole combined weigh 200 tonnes.
Canberra is the largest inland city in Australia, with the smallest population in mainland Australia.
Australia's Secret Intelligence Office – ASIO – is headquartered in Canberra and many Australian's don't realise the agency has a file on them and that they can access the National Archives to find out about it.
Canberra has lots of green space thanks to 2 million trees and shrubs being planted across the city.
Over 70% of the city is open space.
When deciding on the capital, the 6 states agreed it should be within 100 miles of Sydney and have an area of at least 100 square miles. Canberra was the only place that fit these criteria.
A popular activity in Canberra is hot air ballooning and it is one of the only cities in the world where you can ride a balloon over Parliament House.
The Australian National University in Canberra has been ranked in the top 25 universities in the world numerous times. It is widely considered to be Australia's best university.
Canberrans love the great outdoors and the city is home to the Australian Institute of Sport. This might explain why the ACT has the highest rate of participation in sport in Australia.
Canberrans are a generous bunch with the highest commitment of volunteers in the country.
Around the Capital Hill precinct, there are more than 40 international embassies employing over 1200 staff.
The official residence of Australia's Prime Minister is The Lodge in Yarralumla, Canberra.
The National Carillon in Canberra was a gift to Australia from the UK, however it cost more for Australia to take it apart and ship it to Canberra than it did for the English to build it.
CANBERRA LIVING – SIGHTS AND ATTRACTIONS
Although Canberra has somewhat of a reputation for being slightly dull, it is home to some of the finest architectural and artistic treasures in the country. The city's original urban design had an open and free spirited approach in mind and today it is a combination of expansive green spaces and futuristic architecture. Canberra may be a small city but it is a vibrant cultural destination that has won numerous awards for its design and innovation.
It's role as the nation's capital is further enhanced by its fascinating historic national collections and monuments. From the National Arboretum which displays important and endangered plants from across the globe, to the country's largest collection of Indigenous Australian artwork at the National Gallery. Contemporary history is beautifully represented at the National Portrait Gallery and the National Film and Sound Archive and education is a priority too with thousands of Australian kids visiting the National Library and the National Science and Technology Centre annually.
Of course the city's biggest attractions are the parliamentary precinct including the buildings and grounds of the old and new Parliament Houses and what must surely be Australia's most precious monument - the magnificent Australian War Memorial. Australian's visit it as if in pilgrimage to pay respects to the country's servicemen and women, admiring the Hall of Memory and the impressive collection of materials recalling numerous wars that Australia has been a part of.
Canberra is also a national event destination with annual events such as the Summernats street machine festival in January, the great party that is held on Australia Day each year facing Lake Burley Griffin, the Floriade display at Commonwealth Park in spring and Anzac Day commemorations at the War Memorial in April to name a few. It also has a busy calender of live music and theatre throughout the year and attracts visitors from all over the country to see its visiting exhibitions from across the globe.
The city has developed a strong reputation in recent years as a great destination for foodies and the annual Truffle Festival held each winter is only the beginning. The region has a diverse range of produce available ready to eat at many of its restaurants and cafes or fresh from the farmer at the Capital Region Farmers Market. There are dozens of boutique wineries within half an hour of the city and all the fair trade, organic coffee you could wish for in Canberra's street cafés. Local neighborhoods have embraced café culture and Canberrans love for great food and the great outdoors is at its best around Kingston Foreshore.
GETTING AROUND
Because it's such a small city, the public transport options are limited in Canberra. There is an extensive bus network and train and coach services between Sydney, Melbourne and regional centres. Roads are good and parking is plentiful and with such a transient population there are plenty of taxis to be found. The city is a dream for cyclists with nature putting on stunning displays through the seasons and excellent bike paths for free and safe transit. Canberra airport has been recently refurbished at a cost of almost $500 million. There are numerous daily services to most Australian capitals and some regional destinations plus a selection of international flights to Asia and New Zealand.
CLOSING
Canberra is often maligned and frequently overlooked but it's wealth of national historic, cultural and architectural treasures is breathtaking. The outdoor lifestyle makes for an easier pace of living and the transient nature of the city means there are always new and interesting people to meet. The food is incredible and connections to other parts of the country are reliable and frequent. It has the benefits of a life in the country with just enough big city perks and though a little cooler than the rest of the country, it's weather is a performance in itself. It may seem sparse and a little too intellectual on the surface but dig a little deeper and you'll find a fascinating hub that encapsulates the best of modern Australia.